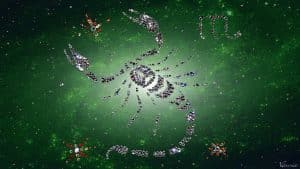 How to seduce a Scorpio? The astrological sign Scorpion is a mysterious partner who he is involved in a relationship only if he knows the feelings of his partner. He addresses the love in an emotional way and he always wants to create his own love story. He wants to meet an artistic, spiritual, idealistic and receptive person. He is a sensual partner who rather likes the physical aspect of a woman but in relationship het can also be capricious and demanding.
Scorpio do not fall in love easily but he wants to have happy relationship otherwise he is able to destroy everything he gets. The astrological sign Scorpio characterizes a faithful partner but pay attention because he can easily prepare all the details of his revenge if necessary. He manifests unduly erotic instincts because he wants to have unique and original experiences with his partner.
Scorpio is a mysterious partner who wants to have a relationship based on passion and sex. If you want to seduce him then you must be passionate and charming. Scorpio loves have secrets so he may have at any time a clandestine relationship just to satisfy his sexual desires. He is a person who has strong feelings for the family. For Scorpio the house and all his family problems remain secret because he is protective and loyal to the family.
The astrological sign Scorpio wants to be respected and he is attracted by women who have strong personalities. He does not have many friends but he always wants to share the same ideas with them.
Scorpio man is a strong person who never accepts among his friends people who have a weak character. However, his friends must be able to manipulate others. In relationship Scorpio is a romantic partner, he is direct and honest but sometimes he is jealous and possessive. He needs love and that's why sometimes he is too possessive with his partner.
The astrological sign Scorpio characterize a man who wants to have many emotional experiences and who is completely involved in a relationship. He is a dominant partner who wants to control the life of his partner but he adopts a serious attitude when he has conflicts in his relationship.
Scorpio is a seductive and passionate partner who wants to have unique experiences and who is attracted by mystery and darkness.