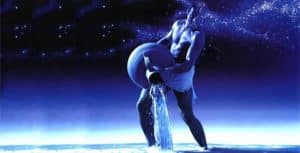 Do you want to seduce an Aquarius man? Following Astrology and Horoscope, the astrological sign Aquarius characterizes a good friend but also a very good partner. He wants to keep its independence in relationship that is why for him it is hard to start a new relationship. He has clear objectives for his partner who has to reach them.
The astrological sign Aquarius has developed the ability to observe and quickly know the character of a person because appearances do not influence him. He is a person who knows how to communicate with everyone and he always has the sympathy of others. He feels the love but in relationship he always tries to make a mix between intellectual and emotional plan.
He is a partner who is undecided; he always wants to flirt and to live on two planes simultaneously if possible. He prefers adventure and tumultuous experiences than having a stable relationship. He is a partner who is always talking about his feelings of love or loyalty especially if his woman is a good conversationalist and an open-minded person.
Aquarius is an original partner, he is modern and friendly. You can share with wim good spiritual or intellectual experiences but keep in mind that he is a partner who needs independence. To seduce an Aquarius, you need to be part of his entourage or you need to work together. He looks for a faithful partner who must be above all a very good friend. The astrological sign Aquarius characterizes a man who can work with someone who can easily become his life partner.
In relationship the man is always trying to bring adventure or to create new experiences. He is tolerant and friendly in relationship so you have luck! Together you will have harmony, peace and self-confidence!
Do you want to seduce an Aquarius? So keep in mind that you have to show an original character. He is a person who adopts his attitude depending on the speaker. He loves going to cinema or watching TV. Aquarius likes to talk about the Cosmos, about aviation or future. You must not impose a solitary life or isolated because Aquarius loves freedom and social life.