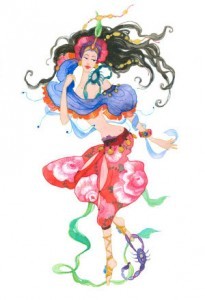 According to astrology and horoscope, Scorpio woman could write a book on how to walk, talk and dress or even how seduce a man. Only one person too stubborn or proud will not respond to the passion that expresses her eyes and voice. Without saying a word, the body of Scorpio woman and his gestures shout the word sex in all possible languages.
If you want to dredge a man, you will know exactly how to do it so he can get out of the crowd and take time to get noticed. Be careful because Scorpio woman will fix her eyes on you and she will have a magnetic look especially if she wants to intimidate you. At that time the man will feel like a poor rabbit hypnotized by a cobra.
Be careful as the women of astrological sign Scorpio cannot stand the wickedness. Wherever she goes traveling, she will love reaching a first-class destination. Scorpio woman will be full of energy and life. She will love to work hard in order to have more money or a better job. All her actions tend to excess and it can be both exciting and exhausting. Anyway, you never get bored. The only risk is waiting quieter, more linear life.
When she is involved in a relationship, Scorpio woman takes love seriously.
She is a strong and creative creature but these do not always correspond to sex: her passion for life means above all the desire for independence. That is why Scorpio woman will be truly convincing in relationship. Many men would be happy to know it but they will not be able to penetrate the secrets and sensuality of Scorpio woman.
In sexual relationship, the woman of astrological sign Scorpio is a passionate woman and her expectations may seem difficult to be achieved. On the other hand, she will be very effective and sensitive to those who suffer because of psychological inhibitions.
Do you want to Love a Scorpio Woman ?