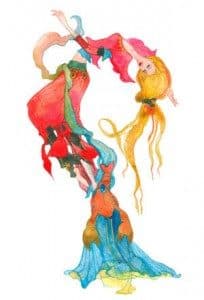 If you want to get into the emotions of a Cancer woman then you will definitely need a compass. But, if it is not a proper compass then you will lose time to try to understand where you are in the relation. When you have doubts remember this rule: Cancer woman will be very dependent on other people; she will need help but also the emotional support of those she loves.
Following Astrology and daily Horoscope the woman of astrological sign Cancer will be too shy to say what is going on in her heart, to speak about want she really wants or what it is true concerning her emotions or feelings.
Be careful how you act in relationship because Cancer woman has a tenacious memory when it comes to a possible revenge. Cancer woman will always hold a place of honor in her heart to the past. She preferred to live there and if it would be possible to believe in reincarnation.
The woman of astrological sign Cancer loves reading books about history especially about ancient times. She also loves wearing dresses of past centuries because those memories give her a sense of continuity. For Women Cancer life is never right so you will need to encourage her in case of a difficult situation or injustice.
Following your Horoscope, Cancer woman is devoted but also possessive in relationship. So, be careful because this devotion can easily turn into possessiveness.
The most important things for Cancer woman are love and security. According the astrology of astrological sign Cancer, for Cancer woman it will always be difficult to express her feelings and emotions in relationship.
Cancer woman loves her home and that is why she will spend hours by decorating. For Cancer woman there is no place better than home.
Express your romance to attract the attention of a Cancer woman! She is a shy, sweet and affectionate woman that keeps a special place in the mind of all its partners.