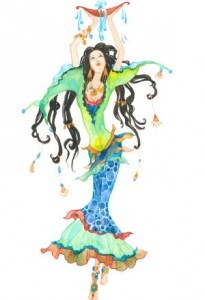 The astrological sign Aquarius corresponds to a sensitive and intelligent woman who lives more mentally and whose friends stimulate all its actions. The wife of Aquarius sign will love going out with friends, have fun with them and party until morning. The people around characterize the Aquarius woman as a very communicative and nice woman who is always ready to accept a last-minute invitation. Generally she is honest and open to new adventures but she will always want to know the truth.
Accept the personality of Aquarius woman and you will have a harmonious relationship long term!
When a woman of the astrological sign Aquarius falls in love, she will be involved in the relationship heart and soul but she will truly follow her mind, which can easily bring a possible separation. Talk about your feelings only if you trust your relationship and your partner. Be careful how to manage your relationship with an Aquarius woman because she can easily dominate or control you!
Aquarius woman is a calm and unpredictable woman who will not be involved in the lives of others. Aquarius sign corresponds to an intelligent woman who offers advice even if it is neither necessary nor desired. The woman of astrological sign Aquarius will succeed because she is an intelligent woman who wants to know and understand how the world works and what are the things that brought her prosperity in the future.
Aquarius woman belongs to everyone and anyone. Her love can be tender and passionate but there will always be something that will be indefinite elusive, like a song that you cannot fully remember.
Aquarius woman will want to have freedom in relationship so you need to accept it. The women of astrological sign Aquarius will never pass their life with a man who is not honest with himself. Its own code of values ​​will be original and different and Aquarius woman will always accept and respect the decisions of others.