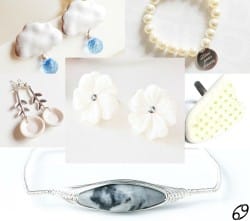 The astrological sign Cancer characterizes a dreamy and emotional person but sometimes she is introverted and stubborn. Read this article and see the lucky charms Cancer that characterize your personality! Follow your Free Horoscope and Astrology and see the charms to use to have luck, peace and prosperity.
However, the astrological sign Cancer characterizes special people who have esoteric and artistic skills. They are ambitions and able to do everything in order to achieve their goal and to succeed their career. But, following the astrology some lucky charms can easily influence them. So, use the lucky charms Cancer to have good luck, to improve your life and to attract all the positive energy! See the lucky charms that influence most people born under astrological sign Cancer.
Following the Astrology, one thing is certain: white is the color that characterizes better the astrological sign of Cancer. White is the dominant color of the horoscope because it is the color of purity, beauty and sensitivity. The white lucky charms have a calming effect on Cancer native.
The lucky charm and the astrological talisman that characterizes Cancer people is chalcedony. This charm has a particular color, a nicely trimmed milky white with blue shades inspiring calm and relaxation. Chalcedony can be used by girls and women but also by Cancer men. It is recommended to use chalcedony in difficult situations, in times of stress and anxiety because it is a lucky charms Cancer that brings peace, harmony, good energy and relaxation.
The charm that provides protection to Cancer is carnelian charm. Even if it is not white, this charm has beneficial effects on Cancer natives and it has an important role in achieving emotional balance. Amber is also essential for Cancer bringing balance and joy.
The moon symbol influences the astrological sign Cancer. This symbol protects Cancer but also their family, his marriage and children. It is recommended to use the Moon symbol especially on your wedding day considering that it brings luck, love and hope.