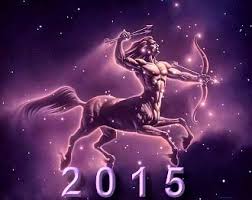 Follow your 2015 Sagittarius Horoscope and find out if you are a lucky person! 2015 brings success and prosperity to the natives of the astrological sign Sagittarius. So enjoy all the opportunities you have! This is a very good year to make changes in your house or to start new activities. With Saturn in opposition, the astrological sign Sagittarius can build strong relationships, he can also fulfill his desires or he can overcome some frustrations. The needs of Sagittarius people are well expressed but they will need a lot of power to overcome certain barriers imposed by society.
Have more confidence in yourself and do always what you want to do! Follow your goals, your passions and your desires even if the path of life is not so easy! Follow your 2015 Sagittarius Horoscope and see how the stars influence your actions and your future.
2015 is an important year for those born under the astrological sign Sagittarius. The Sagittarius people will have many opportunities to stand out, they will be determined to achieve their goals, they will act with confidence and all the doors will be opened. The astrological influence of Jupiter is useful and brings an emerging professional life.
Following your 2015 Sagittarius Horoscope the stress will have no place in your life. However, everything must be performed with patience otherwise you can lose a lot even have failures.
If the first half of the year will not bring much satisfaction the second half brings you success and prosperity so you will be able to increase your income. It is time to stand out, to provide feedback to some people and take the necessary actions to succeed. You can make money easily but you should pay attention to details.
Your 2015 Sagittarius Horoscope will bring you luck in the field of education but also in your relationship. Those who wish to progress should take advantage of their positive energy but they must also begin to act with more confidence. 2015 will bring you luck in terms of career so it is the perfect time to change your current job!